Well, I finally finished my TV-to-fish tank project. For those of you who are long time readers you may remember that I had a 1950 Motorola TV that I bought at a yard sale. It never worked, but the cabinet was nice solid mahogany, the speaker cloth was fine, and I knew it had potential.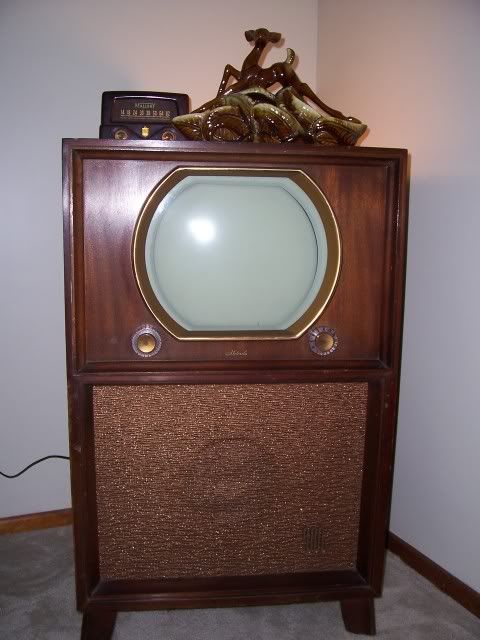 I took the guts out of it- that picture tube was heavy! It had a few scratches (OK,
gouges
) and water marks on the top, so I had to refinish it. After my
coffee-table makeover project
earlier this summer, I knew this would be fairly easy.
Here's the 'before':
And the 'after'. Came out pretty well! I also restored the knobs with a little elbow grease and some black marker to color in the dial numbers (remember those? LOL).
But that was the easy part. The hard part was finding a fish tank that fit inside and that covered the whole porthole window. I finally found one at a yard sale this weekend for $3. It's actually a hermit crab tank, but it fits great and has a cover. I had trashpicked a filter pump and aerator from our neighbors and two seascape backdrops, so all that went inside as well. At some point I want to find a large black and white still from a vintage TV show to use as a backdrop, so it looks more like the TV is still playing a 1950s show.
I had to buy some lighting for inside the tank. Since there is very little headroom, I decided to get a string of rope lighting and attached it to the inside upper edge. It's not real bright, but it does the trick- it was more important that the lights didn't get very hot.
We made a shelf out of plywood to fit on the rails that held the TV chassis and slid the new tank in.
It's hard to see, but we have two fish in there- Gomer Pyle and Barney Fife. One fish is white and the other black and white. My son is a huge fan of the Andy Griffith show, so hopefully we'll find a B&W photo from that show that we can use as a backdrop. (We lost our best fish, Nemo, earlier in the week, so he never made the move. RIP, Nemo.)
And lit up at night, with a Helmscene 3D TV lamp on top. (I must have taken 100 pix trying to get a good one, and this is the best of that lot. My camera stinks!) That is a vintage ad for the 1952 version of this TV on the table next to it. I used that for reference when putting the knobs back together.
Nov. 2011 update: I changed the background to a vintage test pattern, and added period rabbit ears and a UHF tuner:
It is definitely cool, and I think just about anyone with an old TV could do it, if I could!