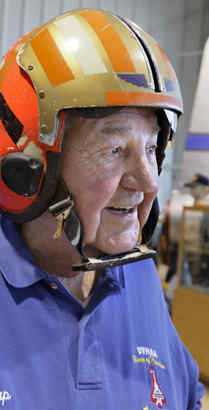 You may recall a few weeks back I posted a
link
to an article on one of the volunteers in my museum, retired Marine Col. "Lap" Lapkiewicz. Well, this morning he passed away suddenly, collapsing after coming in with morning paper.
Of all the WWII vets I've come to know, he was -hands down- everyone's favorite. He never had a bad day and never let you have a bad day when you were around him. He always had a funny story or corny joke to tell. I can still hear him in my mind telling about the time he went to Maine for some lobsters for a squadron party. He stowed them in the ammunition hatch on his Corsair and flew back to Willow Grove with them still alive.
Or the time he buzzed an apartment building to see the naked girls sunbathing on the roof. Or the time he belly landed his FJ4B Fury jet because it would be a waste of a million-dollar plane to eject and save himself.
He had been a trumpet player as well, and we talked about playing quite a bit. He asked me to play Taps for him when it "was his time" and I agreed, never really believing it would happen. Well, now here it is, and I think this will be the hardest thing I will ever have to do as a musician. I hope I can get through it because he deserves it.
So if you have a WWII vet nearby, give them a handshake and a thank you and remember that we lose so many of them everyday. You never know when it will be "their time" and you'll be hearing Taps sound for them.