This is my favorite blog day of the week. It's also the hardest!
I mean, I have so much great thrifted stuff to choose from, but then again I have so much stuff to choose from! So I thought I'd share one of my most recent favorite thrift store purchases, something I've been looking for a long, long time.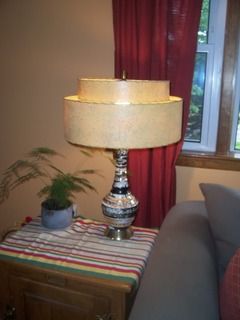 I've been looking for 50s-style tiered lampshades for years. I just never came across any in my price range (i.e. dirt cheap) until now. I've seen many many bases; some really neat ones, but never with the original shade. I even bought a couple bases, until I realized that without the original shade they just didn't look right.
So imagine my surprise when I went into my favorite thrift store just before Christmas and found not one, but two shades! I was so excited I think I must have knocked some people over going to the register.
The one pictured came as a set, base and shade, for $15. The other shade is a bit smaller and I put it on one of those other bases- a flying saucer-type chalkware one. I've seen many lamps that were way cooler and kitschier- I know some of you have incredible lamps- but I think this one just fits my living room perfectly. It adds the right bit of retro cool to my more traditional furniture.