I don't know about all of you, but sometimes I get a really bad case of house envy from looking at others' blogs. Perfectly put-together homes with consistent styles get me every time. Those homes also tend to be the polar opposite of what mine looks like - a carefully curated museum exhibit, rather than the museum storage room! Makes me want to sell everything on ebay and start fresh!
My house is such a hodge-podge of styles, sometimes I fell like it's everything and nothing all at the same time. I'm not sure if I could even limit myself to one particular style of decorating. But if I could, I would have a whole house of mid century modern decor. Or maybe vintage industrial. Or maybe cottage chic.... I guess that's the problem, really, I love it all!
Literally, I have all these styles and more in various rooms of my 1800 square foot house:
Shabby chic/cottage style:
Rustic Adirondack:
Mid Century Modern:
50's Atomic
40's cute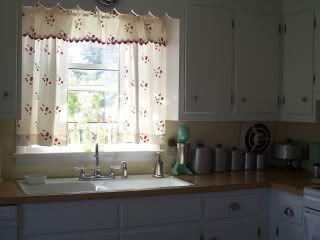 Art Deco:
At this point I think I'm too set in my ways and too much in love with all my stuff to ditch everything and start over. A lifetime of collecting vintage items will do that, I suppose. But it still doesn't deter me from dreaming about owning and furnishing a 1950s Eichler, or a 30s Frank Lloyd Wright, or an industrial loft, or....
What about you? Can you stick to one style or is it a mishmash?